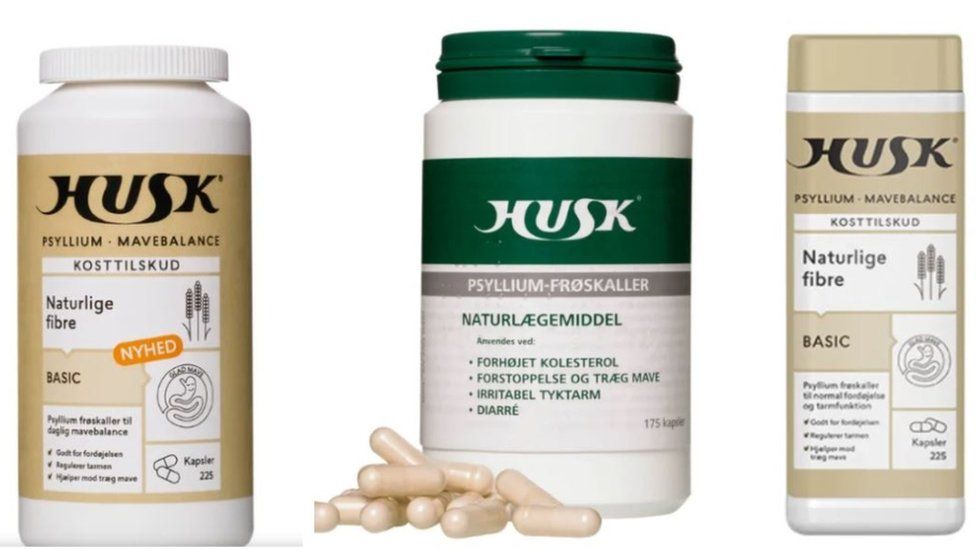 Three people have died in what Danish health authorities say is a large outbreak of salmonella that has left 33 people ill.
Nineteen people have been treated in hospital, according to Denmark's SSI health agency. Those involved in the outbreak are aged between two and 92.
All those affected ate Husk brand psyllium husk capsules from batches recalled by manufacturer Orkla Care.
Authorities found traces of salmonella in the products at patients' homes.
The herbal products are generally used as a laxative. Luise Müller of Denmark's Statens Serum Institut said it was the first time the agency had found a herbal medicine to be the cause of a salmonella outbreak.
It is not clear which ingredient could have caused the poisoning.
Salmonella bacteria can be found in raw or undercooked meat, eggs or other food products. Infection can cause fever, diarrhoea, stomach pain, vomiting and in some cases death.
'Recall of all Husk products'
Orkla Care spokesman Hakon Mageli told the BBC that no clear connection had been confirmed between the three deaths and the products.
However, as a precaution he said "we have decided right now to recall all Husk products because of the outbreak in Denmark, and also for the Swedish and Norwegian and Finnish market".
Many of those affected by the outbreak became ill in March and the health agency first alerted the public to the outbreak on 9 April. By that time there was no indication of serious illness.
Ms Müller said it was possible that some people were unaware they had contracted salmonella as they were already suffering from stomach problems. The three who died are thought to have been ill already but the health agency is unable to give details of their ages.
Mr Mageli said Orkla products had been on the Danish market for 35 years and had never had any cases of salmonella. "We don't know the reason [for the outbreak] but we have now started a full review of the process from the supply of raw materials to the finished product," he said.