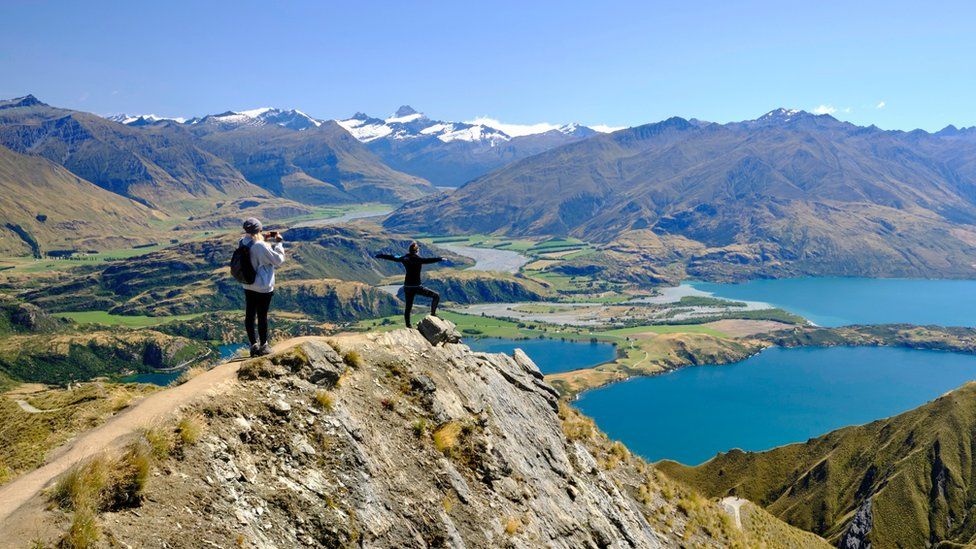 New Zealand's tourism agency has called on people to stop taking influencer-inspired photos at tourist hotspots, in favour of more original ideas.
A tongue-in-cheek video says the country is clamping down on travellers under the "social influence".
The campaign urges people to avoid clichéd poses like the "hot tub backshot" and the "summit spreadeagle".
Officials say they launched the campaign after repeatedly seeing the same pictures and poses.
"There are so many incredible things to do in New Zealand, beyond the social trends," Bjoern Spreitzer, Tourism NZ domestic manager, told local news site Stuff.
The campaign video stars comedian Tom Sainsbury as a lone ranger in the "social observation squad", who stops tourists from taking influencer-style pictures.
"I've seen all this before. We all have," he tells one man posing on a mountain with his arms stretched out.
He also lambasts people posing in lavender fields, and a photo of man sitting on a rock "contemplating".
The video builds on Tourism New Zealand's Do Something New campaign, which was launched last year after borders closed because of the coronavirus pandemic.
Scenic spots in New Zealand such as the tree in Lake Wanaka and the nearby Roys Peak are among the most popular destinations for social media photos, with many striking the same poses.
In 2018, an image of people queuing to take photos at the summit of Roys Peak went viral on social media.
As part of its campaign to get people to visit different locations, travellers are encouraged to share their original photos under the hashtag #DoSomethingNewNZ for the chance to win a domestic travel voucher worth 500 NZ$ (£262).