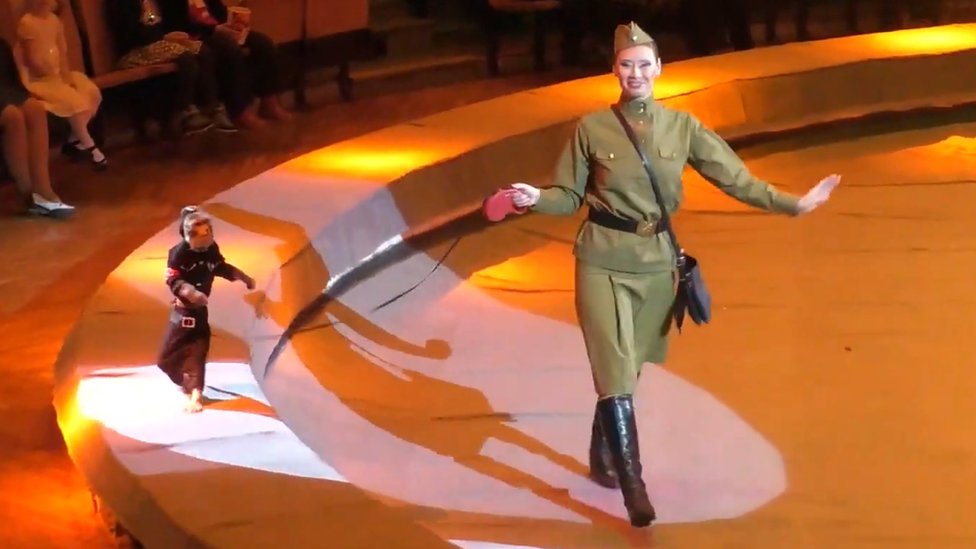 Russian prosecutors have launched an investigation after a monkey wearing a Nazi uniform performed at a state circus.
The show also featured goats wrapped in Nazi flags with swastikas, according to the Russian news website Znak.
The performance was part of a show at the Udmurtia Circus in the city of Izhevsk on 8 January.
It was commissioned by the Russian Orthodox Church, which said the show symbolised the "spurning" of Nazism.
In a statement, prosecutors said they first became aware of the performance while monitoring the internet and have since launched "an investigation into the display of Nazi symbols".
Russian law forbids public displays of Nazi symbols.
The Orthodox Church, meanwhile, has defended the performance. It said the show was intended to be "a symbol of not just the victory over fascism, but also of the spurning and the global condemnation of the ideals of Nazi Germany".
The Church insists it is covered by an exemption signed by President Vladimir Putin in March 2020. The exemption allows the display of Nazi symbols providing they "create a negative attitude to Nazi ideology".
The monkey and the goats were commanded by trainers wearing Soviet uniforms during the show, Church officials said.
Religious believers were persecuted in the former USSR, but now Orthodoxy and the veneration of the Soviet victory against Nazi Germany form two of the most important pillars of Russian state ideology.
The Udmurtia Circus has also rejected criticism of the performance. "Images of the animals are taken out of context," Elena Krasnova, head of PR at the circus, told the BBC.
"There is nothing unusual about such ironic or grotesque characters being used in circus performances," she added.
Images showing the monkey and the goats appear to have been removed from the Udmurtia Circus's social media accounts.
Circus shows involving animals are still legal in Russia.