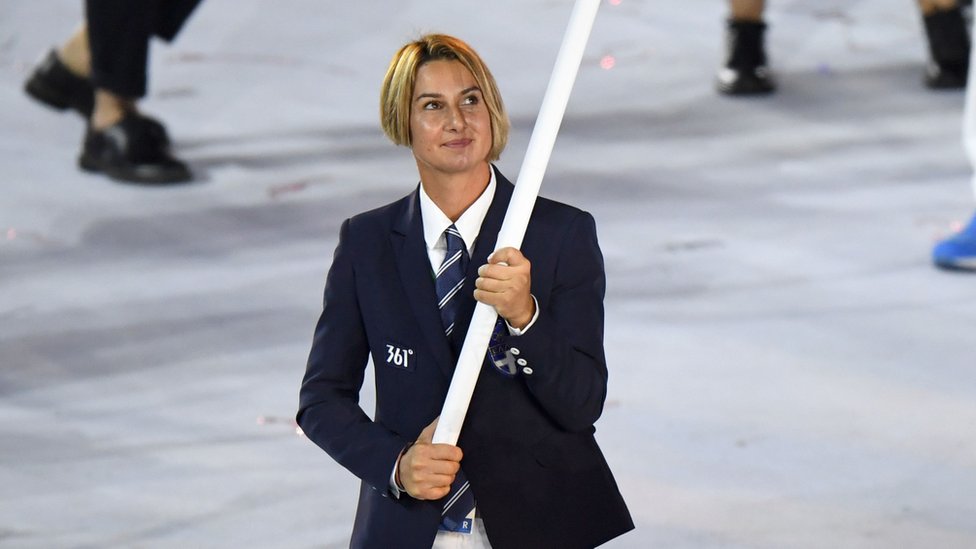 A senior Greek sporting official has resigned, following allegations of sexual abuse made by one of the country's top female Olympians.
Aristeidis Adamopoulos stepped down as vice president of the Hellenic Sailing Federation (HSF) on Saturday, soon after the allegations were made.
Sofia Bekatorou said a member of HSF performed a "lewd act" after inviting her to his hotel room in 1998.
But she did not name the individual and investigations are ongoing.
Mr Adamopoulous has denied any wrongdoing, and said he had resigned due to the "great negative publicity" the allegations would have on the Hellenic Olympic Committee.
Ms Bekatorou, a gold and bronze medallist, made the allegations during an online event this week organised by Greece's sport ministry which was focused on protections for children in sports.
She said the incident, which was non-consensual, took place ahead of the 2000 Sydney Olympics when she was aged 21.
"I said no, I repeated that I didn't want to go on and he used fake sweet talk and said it is nothing," said Ms Bekatorou, according to CNN.
"He said he would stop if I didn't want it but he didn't, no matter what I said to him," she added, saying the experience left her feeling "ashamed".
Ms Bekatorou, now 43, said she had kept silent so she could continue competing, and chose to speak out now so that young athletes would be encouraged to share any of their own experiences.
After her allegation, the HSF initially said it had not received any complaint from her, and referred to the accusation as an "unpleasant incident", prompting a public and political backlash.
On Saturday, it released an additional statement saying it had requested Mr Adamopoulos' resignation to "preserve the prestige of the Federation" and facilitate further investigations.
Greece's Prime Minister Kyriakos Mitsotakis is one of several politicians who have praised Ms Bekatorou for coming forward.
"Sofia bravely broke the chain of fear and silence, showing the way for the stigma of guilt to pass from the victim to the perpetrator," said Mr Mitsotakis in a statement on Facebook.
"This way she became an Olympiad of responsibility, on behalf of all of us," he added.