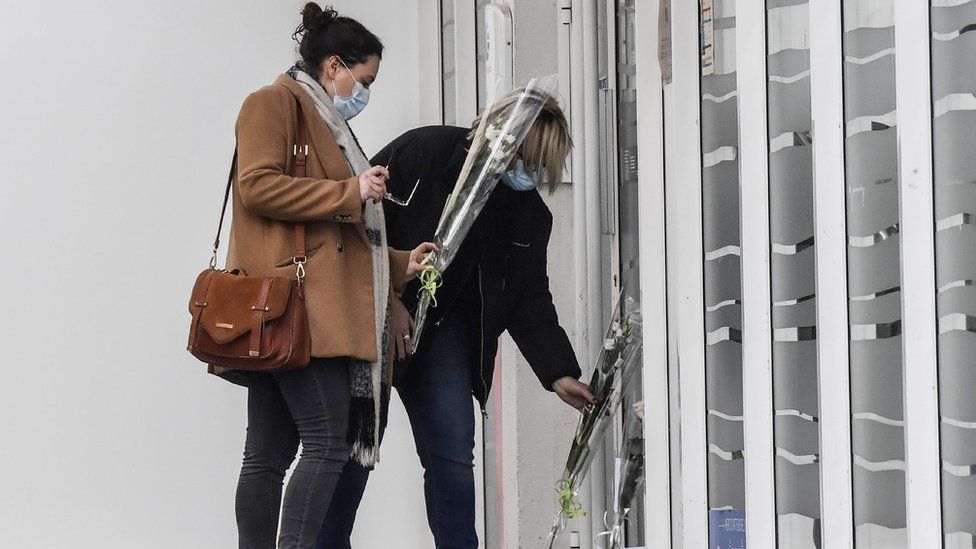 A man held for the murders of a job centre adviser and a human resources manager in south-eastern France is being linked to earlier attacks on HR managers elsewhere.
The suspect in the killings of the two women on Thursday in and around Valence was arrested soon afterwards.
Two days earlier, another HR manager was shot dead in a car park more than 500km (310 miles) away.
Another human resources worker survived an attack at his home in a town nearby.
Valence prosecutor Alex Perrin said initially that the 45-year-old suspect's motives for Thursday's murders were unclear, but they were linked to his earlier employment and his route had been carefully planned. The man is described as an unemployed engineer from Nancy in eastern France who was unmarried and unknown to the police but keen on shooting.
Prime Minister Jean Castex said the killings had left the whole country in mourning and 900 job centres across France closed on Friday as a mark of respect and staff held a minute's silence.
Job centre staff elsewhere posted on social media their "support and solidarity" in honour of their dead colleague.
How the attacks unfolded
At 08:30 on Thursday, the gunman burst into a job centre just after it opened in Valence and fatally shot a 53-year-old woman working there as an adviser. The victim was a mother of two children. "I can't say if he knew the unfortunate victim... did he target the first person he saw?" asked the prosecutor. It later emerged the suspect had been on the job centre's books up to 2013.
As the gunman left, a colleague noted down the licence plate on his red Honda car and contacted police. The attacker then drove to the Faun refuse collection company where he once worked in the neighbouring town of Guilherand-Granges. He shot a 51-year-old woman who was human resources manager at the firm. She later died of her wounds.
The suspect had reportedly worked there for two years before losing his job some time ago. He was detained on a bridge over the River Rhône linking the two towns when he drove into a police car trying to stop him at around 09:15.
Soon the two murders were being linked to earlier attacks several hours' drive to the north-east.
A 39-year-old woman was found dead on Tuesday evening in her car outside the company where she worked in Wolfgantzen, around 150km from the suspect's home. A man in his 50s was later attacked at his home in Wattwiller but survived.
The two victims had previously worked together in a human resources department, local reports said, and had been involved in project affecting a company where the suspect had worked several years ago. Police said on Friday they had established a DNA link between the Wattwiller attack and the two murders in the south but the suspect was refusing to talk.
Police are also investigating a 2018 social media campaign under the hashtag "balancetonDRH" - or "expose your HR manager" - where names had been posted of people condemned as "mercenaries" and "killers".