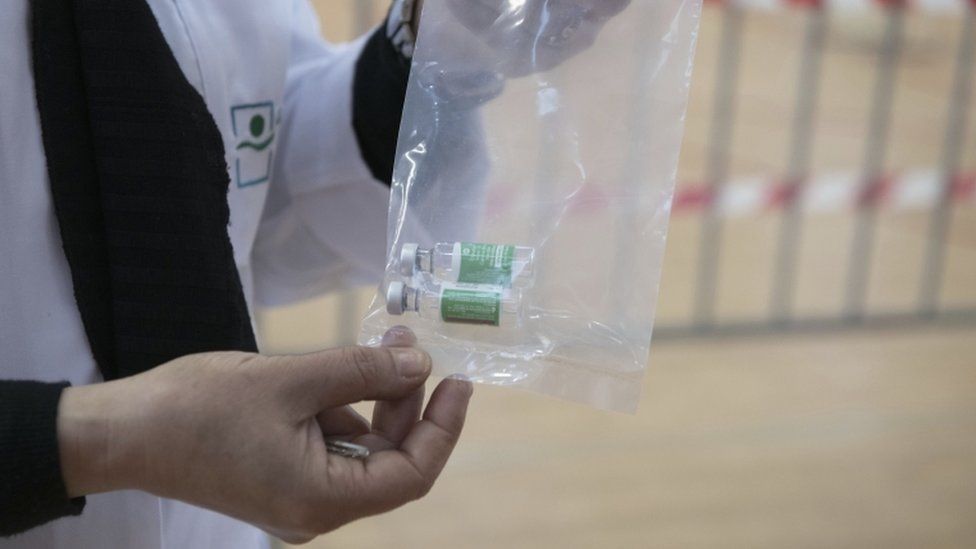 The EU's drugs regulator has approved the use of the AstraZeneca Covid vaccine for people aged over 18.
The move comes amid a continuing dispute over whether the Anglo-Swedish drug company is breaking its vaccine delivery commitments to the bloc.
The European Commission has published its contract with the drug-maker, hoping to show a breach.
Last week AstraZeneca said vaccine supplies would be reduced because of problems in one of its EU factories.
European Commission chief Ursula von der Leyen told German radio on Friday that the contract signed in August contained "binding orders", and called for an explanation.
Analysis: Supplying vaccine will be the big test
Michelle Roberts, Health editor, BBC News Online
It would have been very surprising if EU regulators had not given the go-ahead for this vaccine that they have been pre-ordering hundreds of millions of doses of. The UK approved it weeks ago, and millions of people in Britain have already received their first shot that should give them protection very soon.
Trials show it is highly effective at preventing severe illness and deaths from coronavirus. But there have been questions about how well it works in people aged 65 and above, because there isn't as much data for that age group - fewer than 10% of the trial volunteers were in this age bracket. However, there is other evidence to suggest the vaccine works very well in older adults.
Studies show that, like other age groups, the over-65s have a strong immune response to the vaccine. After receiving the shots their blood has plenty of the required antibodies that can fight the coronavirus. It will be up to individual countries to decide who - including which age groups - to offer the shots to.
The bigger question will be how soon EU nations can get large deliveries of the vaccine. Supplies of this and other Covid vaccines are in huge demand, but there is a limit to how much can be manufactured at pace.
This breaking news story is being updated and more details will be published shortly. Please refresh the page for the fullest version.