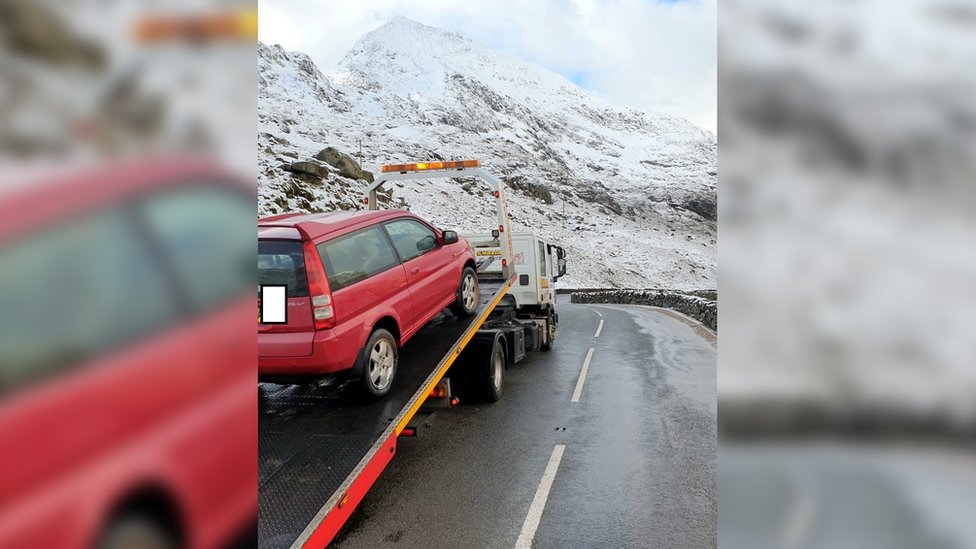 Staff looking after a car park in a Welsh national park have been "getting abuse" as crowds continue to gather at popular beauty spots.
A spokeswoman for Snowdonia National Park said the decision to keep car parks open was under "constant review".
She explained closing them could lead to unauthorised parking and would exclude locals with mobility issues.
Wales is at alert level four, meaning non-essential travel is banned and exercise must start and finish at home.
On Saturday, North Wales Police said officers had "turned away" people who wanted to walk up Snowdon in breach of stay-at-home rules, including some some from Milton Keynes and London.
At the start of the first lockdown in March, campsites, caravan parks and tourist hotspots were closed by the Welsh Government after "unprecedented" crowds gathered at beauty spots.
Snowdonia National Park Authority said it had chosen not to close its car parks again because the areas remained open to people living nearby.
"Closing car parks can lead to unauthorised parking on roads, so we are keeping them open at the moment," a spokeswoman said.
"The mountains are open for people to be able to exercise from their front doors. Keeping car parks open allows people with mobility issues to exercise as well.
"We are working closely with police and Gwynedd council and we are reviewing it constantly."
She said its busiest car park, at Pen y Pass near Snowdon, had been overseen by wardens over the Christmas and New Year period, but in a more educational role than in previous years.
"Places like Pen y Pass are usually manned anyway but their role has changed slightly. They are getting some abuse, which is a shame," she continued.
"We are adopting a similar approach to police: engaging with people, asking what their plans are then educating them.
"The majority of the time people are going 'I misunderstood that', or people are saying 'I'm doing what I want anyway'."
A breach of Covid rules can incur a £60 fine, which rises to £120 for a second breach.
Penny Brockman, of Central Beacons Mountain Rescue Team, called on people to help protect themselves and others, including rescue volunteers, by following government guidelines.
"It is important for people's well-being to walk, but there are probably lots of wonderful places in their own local areas," she added.
South Wales Police tweeted a picture of Hamilton the police horse "staying at home" in his stable, urging people to be "more like him".