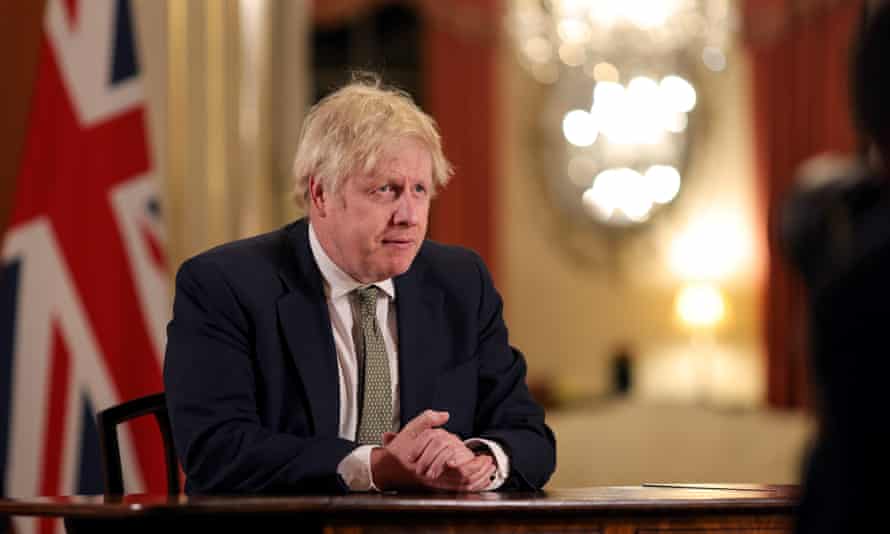 The prime minister acted "decisively" on the lockdown in England "in the face of new information", Rishi Sunak says.
People must now stay at home except for a handful of permitted reasons and schools have closed to most pupils.
The chancellor said the action was "regrettable" but it was "right we take these measures", which will be reviewed on 15 February, to suppress the virus.
It came after UK chief medical officers recommended the Covid threat level be increased to five - its highest level.
The prime minister said vaccinating the top four priority groups by mid-February could allow restrictions to be eased.
Tough new lockdown restrictions forbidding people from leaving home for non-essential reasons have also come into force across the Scottish mainland - these rules will be reviewed later this month.
Northern Ireland, which entered a six-week lockdown on 26 December plans to put its stay-at-home message into law, and will have an "extended period of remote learning", the Stormont Executive said.
The UK reported a record 58,784 cases on Monday, as well as a further 407 deaths within 28 days of a positive test.
Meanwhile, Prime Minister Boris Johnson is due to hold a press conference in Downing Street at 17:00 GMT with chief medical officer for England Prof Chris Whitty and the government's chief scientific adviser, Sir Patrick Vallance.
Mr Gove told BBC Breakfast: "It is a very, very difficult time for the whole country, that's why it's so important we do everything we can in government to vaccinate people.
"The more we vaccinate the easier it will be to lift these restrictions."
He said a million people had been vaccinated so far "up until the weekend" and it is hoped that number will reach more than 13 million in February.
When asked about the target of two million vaccines a week and concerns over logistics and the safety systems, he said: "We do want to make sure these vaccines are delivered in the safest possible way that we do not waste a drop.
"The process of making sure that the vaccines can be placed in the appropriate vials and then safely injected into people's arms is a complicated exercise, but the NHS has more than risen to the challenge."
Mr Gove said the lockdown was "not easy" for anyone, but "I hope the instructions are clear".
The government was "looking at further options" to restrict international travel, he said.
Mr Gove told Sky News he could not say exactly when the lockdown in England would end, adding: "I think it is right to say that as we enter March we should be able to lift some of these restrictions but not necessarily all."
Prof Andrew Hayward - a member of the government's Scientific Advisory Group for Emergencies (Sage) - told BBC Radio 4's Today programme the lockdown measures "will save tens of thousands of lives".
But he said "the virus is different" and "it may be that the lockdown measures that we have are not enough"
"This lockdown period we need to do more than just stay at home, wait for the vaccine, we need to be actively bearing down on it," he said.