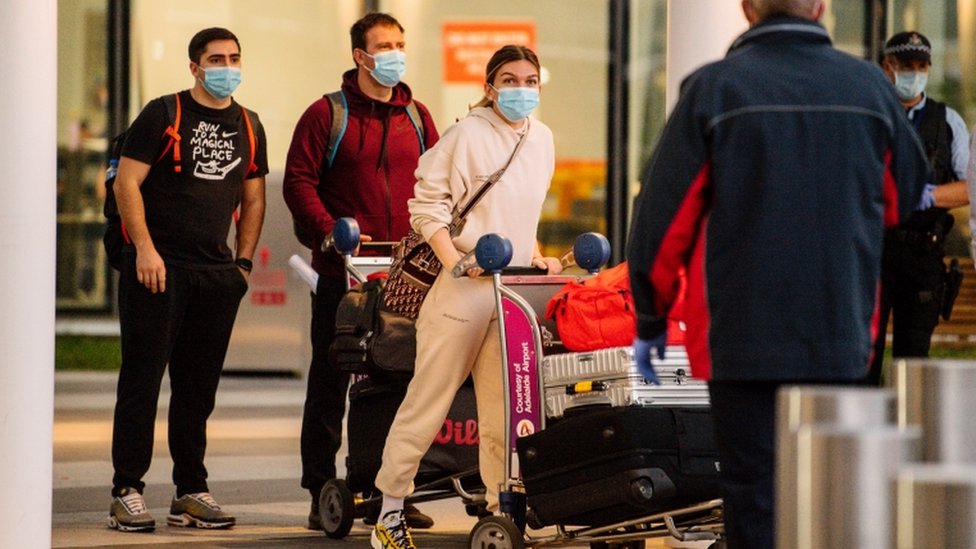 Several Australian Open tennis players have expressed frustration at being confined to their hotel rooms for two weeks after people on their flights tested positive for coronavirus.
At least three players said they might not have gone to the tournament if the rules had been made clear to them.
Organisers said the rules were clear, and the event would proceed as planned.
Three people tested positive for Covid on Saturday and two on Sunday. They had been on three chartered flights bringing players to the tournament.
Top players such as Victoria Azarenka, Sloane Stephens, Kei Nishikori, Angelique Kerber and the UK's Heather Watson are among those affected, badly impacting their preparations.
One of the positive cases, a coach, said he was "sorry for the consequences now on everyone's shoulders".
Meanwhile Emma Cassar, quarantine commissioner for the state of Victoria, said people in the hotels - including one player - were breaching lockdown rules by opening their doors to communicate with others on their floor.
"It is really low-level but really dangerous acts which we just can't tolerate," she said.
What is all the fuss about?
All players taking part in the competition have had to test negative before boarding flights and then be placed in designated Australian Open quarantine hotels in Melbourne and Adelaide.
They are allowed out for up to five hours a day to practise on court, except for those on the two offending flights who have been confined to their rooms.
But players said they were not aware of the rule that everyone on a plane had to isolate if someone on it tested positive.
Yulia Putintseva of Kazakhstan wrote on Twitter: "What I don't understand is that, why no-one ever told us, if one person on board is positive the whole plane need to be isolated... I would think twice before coming here."
But Australian Open director Craig Tiley disagreed that the rules were not properly explained.
"We did make it very clear at the beginning. That's why we had the player groups in cohorts. There was always a risk that someone would be positive and have to go into 14 days of isolation," he said, quoted by AFP news agency.
He insisted the tournament - the first Grand Slam of the year - would go ahead as planned.
How did this situation come about?
Organisers of the Australian Open have been arranging chartered flights for players and their teams to be transported to Melbourne ahead of the tournament. These flights have frustrated many Australians, who have not been able to return home because of travel restrictions during the pandemic.
The five coronavirus cases connected to the Australian Open were on flights arriving from Los Angeles in the US, Abu Dhabi in the United Arab Emirates (UAE) and Doha, Qatar.
At least 72 players were on the flights.
Three people - a crew member, a tennis coach and a member of a broadcast team - tested positive on the flight from Los Angeles.
Sylvain Bruneau, the coach of 2019 US Open champion Bianca Andreescu, said he was the positive case on the flight from Abu Dhabi.
The Canadian coach said he had followed all the safety protocols, including testing negative for Covid-19 within 72 hours before the flight's departure.
"I am extremely saddened and sorry for the consequences now on everyone's shoulders sharing my flight," he said in a statement tweeted by Tennis Canada.
"The rest of my team is negative, and I sincerely hope that any further disruption is kept to a minimum."
Tournament organisers quashed rumours about a positive case on one of the two flights that brought the game's biggest names into Adelaide.
While most players touched down in Melbourne, superstars including Novak Djokovic, Rafael Nadal, Serena Williams and Naomi Osaka instead flew into the South Australian city.