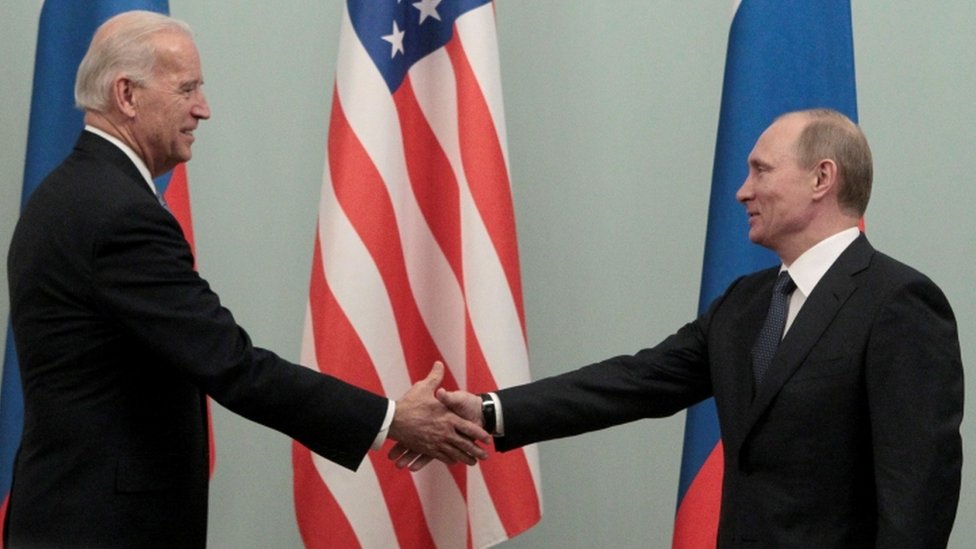 Russian President Vladimir Putin has become one of the last world leaders to congratulate US President-elect Joe Biden on his victory.
The Kremlin had said it would wait for official results from November's vote before recognising the victory.
Mr Biden was confirmed as the winner on Monday by the electoral college.
Most world leaders congratulated Mr Biden within days of the 3 November poll, when it was clear he had defeated sitting President Donald Trump.
Mr Biden and Mr Putin had frosty relations when the former served as vice-president under Barack Obama.
Democrat Joe Biden won November's contest with 306 electoral college votes to Republican Donald Trump's 232.
Confirmation by the electoral college, which took place on Monday, was one of the steps required for Mr Biden to take office.
Last month, President Trump said he would leave office in January if Mr Biden were affirmed as the election winner by the electoral college, but he has continued to make unsubstantiated claims of election fraud.
What did Putin say in his message?
According to a Kremlin statement, Mr Putin wished Mr Biden every success and said he was "ready for collaboration and contacts with you".
He "expressed confidence that Russia and the United States, which have a special responsibility for global security and stability, could, despite their differences, really help to solve the many problems and challenges facing the world", the statement added.
But analysts say Mr Biden, who describes Mr Putin as an autocrat, is expected to take a tougher line on Russia than Mr Trump.
Russia has faced accusations of interference in the 2016 US election to help get Mr Trump elected.