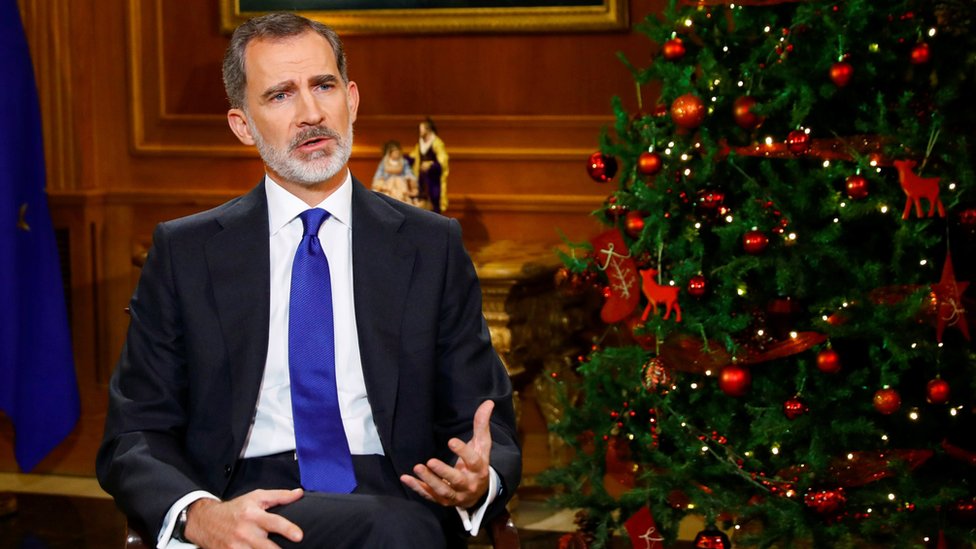 Spain's King Felipe VI made a veiled allusion to his self-exiled father's scandals in his Christmas address, saying "ethics are above family ties".
It was a small interlude in a speech centring on the coronavirus pandemic, where the king thanked health workers.
The former king, Juan Carlos, fled to Abu Dhabi in August as corruption allegations mounted.
Juan Carlos has denied wrongdoing but his departure heightened debate about the future of the country's monarchy.
There has been much speculation as to whether Felipe VI would reference the controversy in the annual speech.
According to El Pais newspaper, many felt it would be impossible to ignore in an end-of-year address, though no-one was sure how he would go about acknowledging the "elephant in the room".
Though he did not specifically mention his father, many felt the connection was clear.
"In 2014, during my induction into parliament, I referred to the moral and ethical principles that citizens expect of us. Principles that apply to us all without exception, and that prevail over all considerations, whatever their nature may be, personal or familial," said the monarch.
He recognised that many families were dealing with grief and spending the holidays apart. And he spoke of a "great national effort" was needed to overcome the difficulties Covid-19 had caused.
What happened to King Juan Carlos?
He ruled for close to 40 years, before handing power to his son in 2014.
This decision came after a corruption investigation involving his daughter's husband and a controversial elephant-hunting holiday in the middle of Spain's financial crisis.
In June this year, Spain's Supreme Court launched a further investigation into Juan Carlos's alleged involvement in a high-speed rail contract in Saudi Arabia, after the ex-king lost his immunity from prosecution following his abdication.
Then in August, the ex-king made the shock announcement that he was leaving Spain.
He has denied all allegations against him and said he would be available for interviews with prosecutors.