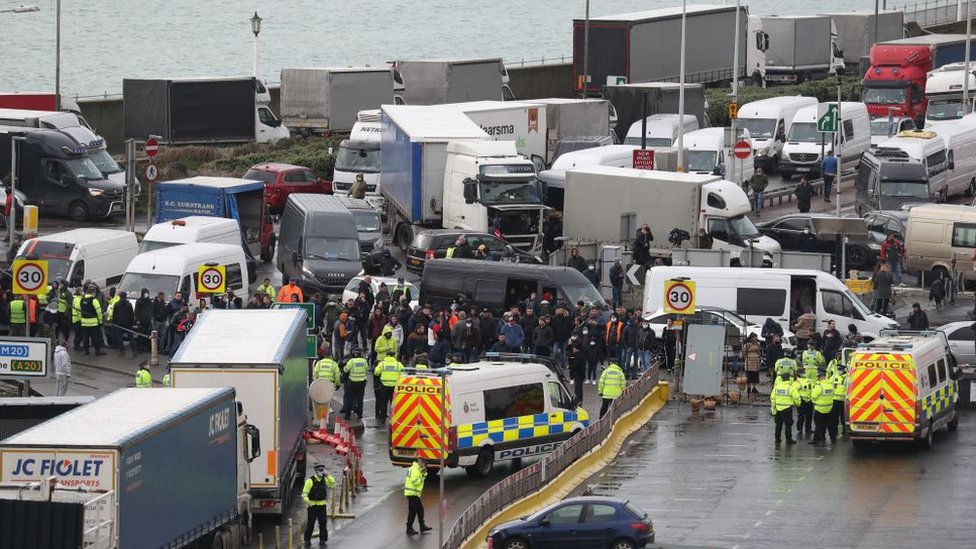 The first trucks have started leaving a temporary lorry park in Kent after France reopened its border with the UK.
Some 3,800 lorries have been stuck at Manston airfield after France closed its UK border on Sunday amid concern over a fast-spreading virus variant.
On Wednesday, France ended its ban on UK arrivals on condition of a negative coronavirus test.
But drivers have been clashing with police at the port of Dover as they wait for tests and a negative result.
Soldiers have joined NHS Test and Trace staff in Kent to carry out rapid tests on thousands of stranded lorry drivers.
But Communities Secretary Robert Jenrick said it could take "a few days" to clear the backlog.
A number of drivers clashed with police this morning, with officers trying to push back a small crowd trying to enter the Port of Dover.
Kent Police said one man is in custody after being arrested for obstructing a highway in Dover and there have been disturbances at Manston Airport, where a lorry-holding facility run by the Department for Transport is now full.
The entrance to the Port of Dover is currently closed with a line of police officers blocking it, BBC reporter Amanda Akass said.
They told her they will not start allowing vehicles through until "protesters" - several dozen drivers - move from the roundabout at the entrance.
But the drivers have said they will not move as they do not want to go to the back of the queue and cannot move as the road is blocked in both directions.