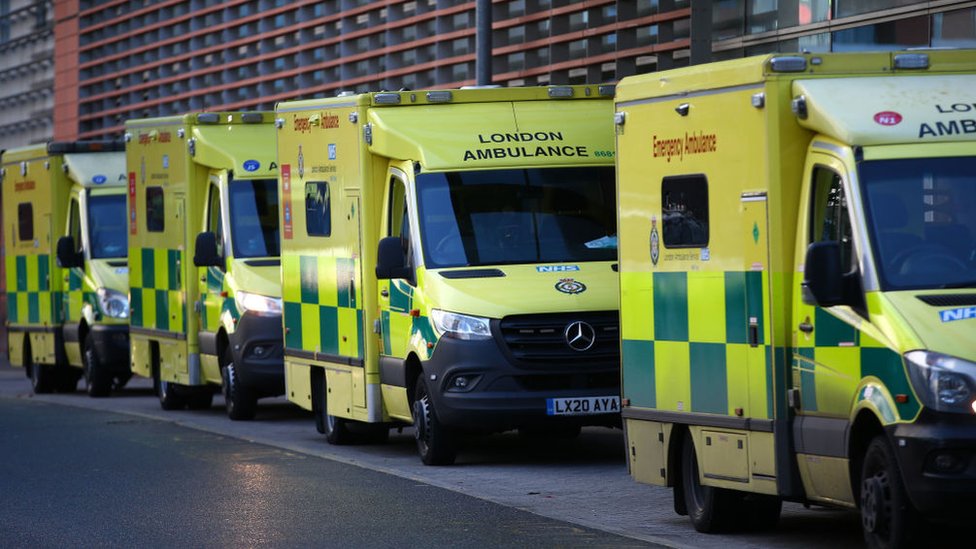 England's "very high" Covid infection level is a "growing concern" as the NHS struggles to cope with rising patient numbers, a health official has said.
NHS England said the number of people being treated for the virus in hospital is now 20,426, which is higher than the previous peak of about 19,000 in April.
Health officials in Wales and Scotland have also said they are at risk of becoming overwhelmed.
Monday's figure for new cases is the highest daily number reported by the UK government, and the first time the daily total has surpassed 40,000.
It is thought the infection rate was much higher during the first peak in April, but testing capacity was too limited to detect the true number.
Some data over the Christmas period is incomplete, as a result of certain services being paused.
BBC health editor Hugh Pym said Monday's figure included some infections where reporting was delayed, but that officials did not deny there had been a significant increase in infections.
Dr Yvonne Doyle, medical director at Public Health England, said: "This very high level of infection is of growing concern at a time when our hospitals are at their most vulnerable, with new admissions rising in many regions."
"Despite unprecedented levels of infection, there is hope on the horizon," she added.
Dr Doyle urged members of the public to "continue to play our part in stopping the spread of the virus" as the Pfizer/BioNTech coronavirus vaccine is rolled out.
Hospitals in Wales, Scotland and the south of England have reported rising pressure on their services as the number of Covid patients increases.
Queen Elizabeth Hospital in Woolwich, south-east London, said on Monday that an "internal incident" over its "high number of Covid-positive patients" had been ongoing since Sunday.
"All our patients have received the treatment they need, including intensive care treatment for Covid-19 and oxygen therapy as required.
"We are continuing to monitor the situation to ensure that this remains the case," a spokesperson for Lewisham and Greenwich NHS Trust said.
Two stats stand out today and underline the extent of the pressure on the NHS.
One is the more than 20,000 Covid patients in English hospitals, more than the peak in the first wave in April.
In many ways it is even tougher for hospitals now, as they are trying to clear the backlog on non-urgent operations and procedures cancelled in the first wave - as well as cope with the surge in Covid numbers.
It is worth pointing out though that one reason for the high level of patients is that some are there thanks to drugs and therapies discovered in the past year who might not have survived in the first wave.
The other key statistic is the 41,385 new daily reported cases - by far the highest number since the testing system was fully established in the summer.
Some sadly will become seriously ill after a week or so which points to even greater strain on hospitals in the new year.
The president of the Royal College of Emergency Medicine said she saw "wall to wall Covid" when she worked at one London hospital on Christmas Day.
Dr Katherine Henderson told the BBC there was a "great deal of difficulty" getting patients into wards.
She added: "The chances are that we will cope, but we cope at a cost - the cost is not doing what we had hoped, which is being able to keep non-Covid activities going."
Danny Mortimer, chief executive of the NHS Confederation, told BBC News disruption to non-urgent care in both hospitals and other health services was "inevitable" as infections rise.
About half of the health boards in Wales have already cancelled non-urgent care, according to the director of the Welsh NHS Confederation.
Darren Hughes told BBC Radio 4's PM programme the situation in Welsh hospitals was "incredibly serious, and worsening", with some intensive care units already at capacity.
Infection rates in England are currently highest in areas of Essex, London and other parts of the South East.
Tracey Fletcher, the chief executive of Homerton hospital in east London, said her staff were "extremely busy" and urged people to comply with the tier four restrictions in force.