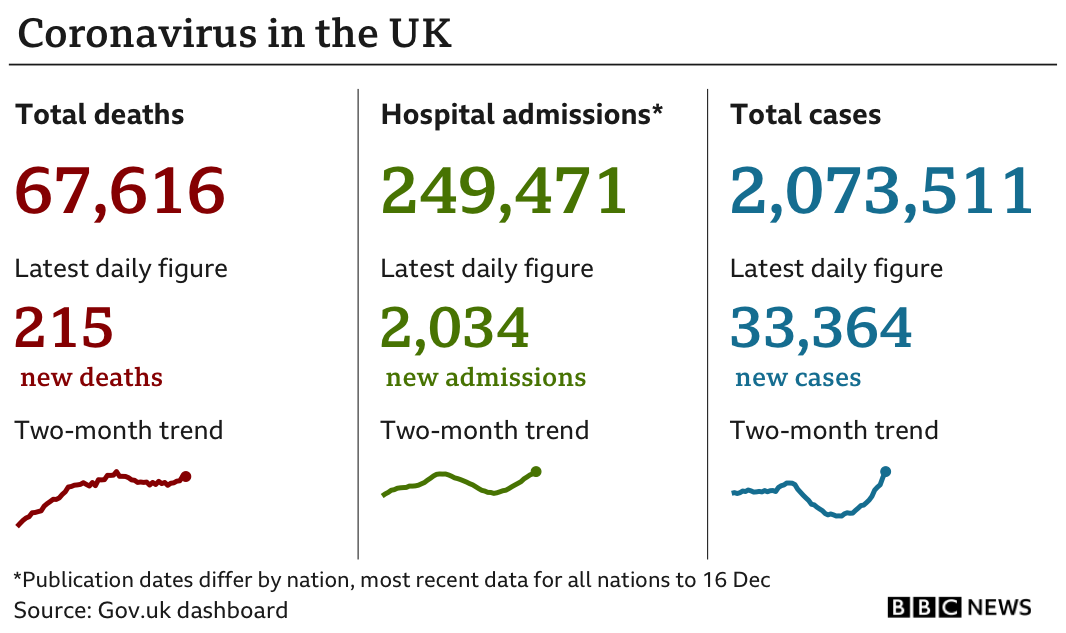 More than 1,500 lorries are stuck in Kent waiting to leave the UK as politicians thrash out a plan to reopen France's border to trade and travel.
France shut its UK border for 48 hours on Sunday amid fears of a new coronavirus variant. More than 50 countries have now banned UK arrivals.
Home Secretary Priti Patel said 650 lorries are stacked up on the M20, with a further 873 at a lorry park.
The UK's top scientist has warned the new variant is "everywhere".
In England, 17 million people are under tier four rules, the toughest level, where people are being told to stay at home and not leave the area. Some parts of England, as well as Wales, have asked people who travel from tier four areas to self-isolate.
Wales has entered a new national lockdown, Scotland has tightened rules and both Scotland and Northern Ireland will begin national lockdowns on Boxing Day.
France shut its border to UK arrivals for 48 hours on Sunday, and currently no lorries are leaving the Port of Dover or Eurotunnel to France.
Bosses at Eurotunnel estimate that up to 2,500 freight vehicles are expected to arrive in the UK later, and the same again tomorrow.
The port of Harwich in Essex - which is about 130 miles from Dover by road - is also seeing a build up of lorries as drivers divert from Dover, a spokesman for the port said. The port of Felixstowe in Suffolk is also busy but there are no queues.
Home Secretary Priti Patel said discussions were under way between the UK and France "to find a resolution" to the Channel disruption.
"You'll hear later on today in terms of developments and updates," she told BBC Breakfast.
France's Europe minister Clément Beaune said any plans would be agreed by Prime Minister Boris Johnson and French President Emmanuel Macron and come into effect from Wednesday.
Ms Patel said potentially testing lorry drivers at ports was "part of the discussions", and added: "Getting those tests up and running can happen relatively quickly."
EU member states are understood to be pressing for UK arrivals to be tested for the virus before entering their countries.
The border disruption also affected passenger services - with many air, rail and sea services cancelled between the UK and France, as well as other countries.
Rail operator Eurotunnel said it hoped passengers would be able to travel between the UK and France from Wednesday or Thursday, if a solution is agreed.
British Airways said it would operate "a reduced and dynamic schedule" amid the uncertainty.
Meanwhile, the World Health Organization said there was "zero evidence at this point" that the new variant of coronavirus discovered in the UK causes "any increase in severity associated with" Covid-19.
It urged the public to continue with measures known to reduce the spread: hand washing, social distancing, and wearing face coverings.