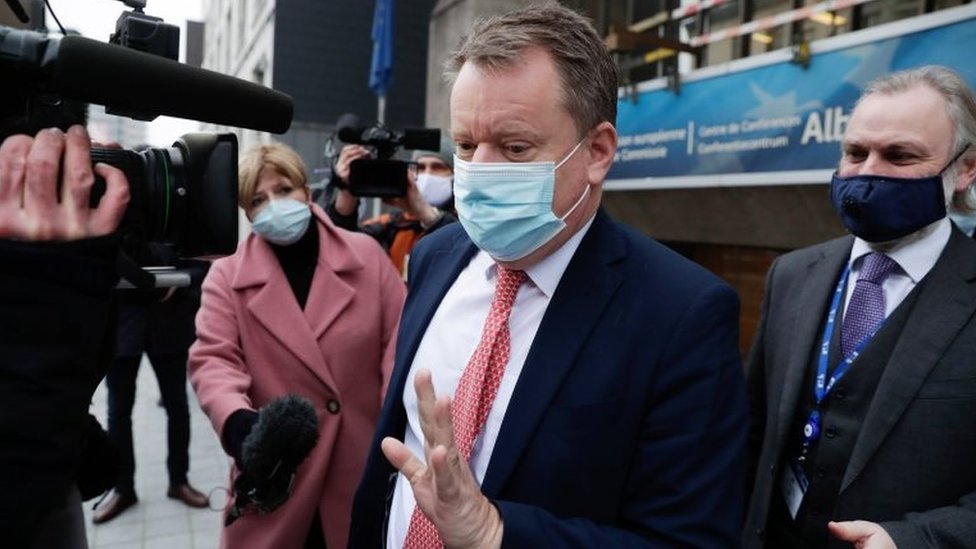 Talks between the UK and EU have resumed, as the two sides make a final bid to reach a post-Brexit trade deal.
Disputes over fishing and business competition rules are still going on, but the UK government said there was "still time to reach an agreement".
The EU mood was described as "downbeat" as chief negotiator Michel Barnier met UK counterpart Lord Frost.
Prime Minister Boris Johnson will speak to European Commission President Ursula von der Leyen later.
The European Commission said the conversation was due at 1600 GMT.
If no deal is done by the end of the year, the UK and EU will introduce tariffs and border checks on goods.
The government faces an urgent question from Labour in the House of Commons later on how the talks are going.
Early on Monday morning, Mr Barnier briefed EU ambassadors that "divergences" remained over fishing rights and business rules.
The EU says that, without ongoing access to UK waters for its fleets, UK fishermen will no longer have special access to EU markets to sell their goods.
But the UK argues that what goes on in its own waters should be under its control as a sovereign country.
The UK and EU are also at loggerheads over the so-called "level playing field" - a set of shared rules and standards to ensure businesses in one country do not have an unfair advantage over their competitors in others.
Brussels wants the UK to adhere to EU rules on workers' rights, environmental regulations and state aid, but the UK says the goal of Brexit is to break free from following common rules and reassert national sovereignty.
And the two sides disagree on how any future trading disputes should be resolved.