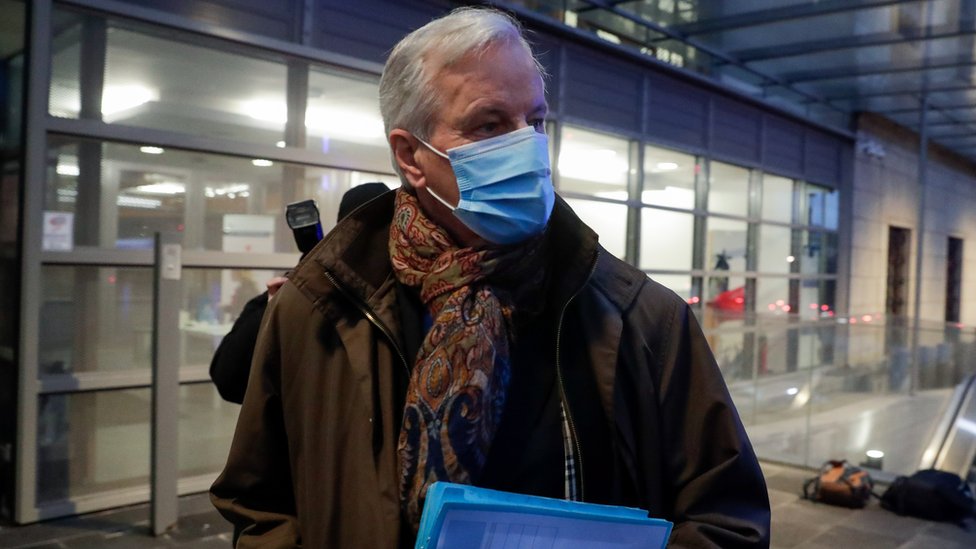 Negotiators for the UK and EU have restarted talks over a post-Brexit trade deal as they search for a breakthrough in securing an agreement.
It comes after the two sides decided on Sunday there had been enough progress for negotiations to continue.
PM Boris Johnson has warned the sides remain "very far apart" in key areas, but "where there's life there's hope".
Time is fast running out to finalise an agreement before the UK's Brexit transition ends in just over two weeks.
The decision to keep talking came after Mr Johnson discussed the main sticking points with EU Commission President Ursula von der Leyen on Sunday.
A new deadline for a decision has not been set - but the ultimate deadline comes on 31 December, when the UK stops following EU trading rules.
Without a trade deal in place by then, the two sides would begin trading on World Trade Organization (WTO) terms, meaning taxes - or tariffs - would be introduced, potentially raising the cost of imported goods such as food.
Fishing rights, "level playing field" rules on how far the UK should be able to diverge from EU laws, and how any agreement should be policed remain the major stumbling blocks.
The EU's chief negotiator Michel Barnier has resumed talks with his UK counterpart Lord Frost, after briefing ambassadors of EU member states.
According to an EU source, Mr Barnier is believed to have told them talks over a level playing field remained hard, but were moving towards an agreement.
He is also said to have told them a wider deal could fall into place if a route towards an agreement on fishing rights can be identified.Ahead of the negotiators meeting in Brussels, Business Secretary Alok Sharma said the UK was "not going to be walking away from these talks," although the UK would not continue negotiations beyond the 31 December deadline.
However, he added "quite significant progress" would be required in a number of areas for an agreement to be reached.
Speaking at an event on Monday, Mrs von der Leyen said there had been "movement" in the talks and negotiators had not exhausted all options.
And she said the issue of the level playing field was the "one and only important question" if UK should continue to have access to the EU's single market.
The Commission president added: "They have either to play by our rules, because this is a matter of fairness for our companies... or the other choice is there is a price on it, and the price is border and tariffs."
Labour's shadow Cabinet Office minister Rachel Reeves welcomed the continuation of the talks and said the worst outcome would be to "crash out with no deal whatsoever on 1 January".
This new phase of the talks is expected to focus on how close the UK should stick to EU economic rules in the future.
The EU is determined to prevent the UK from gaining what it sees as an unfair advantage of having tariff-free access to its markets - not paying taxes on goods being bought and sold - while setting its own standards on products, employment rights and business subsidies.
The EU is reported to have dropped the idea of a formal mechanism to ensure both sides keep up with each other's standards and is now prepared to accept UK divergence - provided there are safeguards to prevent unfair competition.
Fishing rights is another major area of disagreement, with the EU warning that without access to UK waters for EU fleets, UK fishermen will no longer get special access to EU markets to sell their goods.
But the UK argues that what goes on in its own waters, and its wider business rules, should be under its control as a sovereign country.