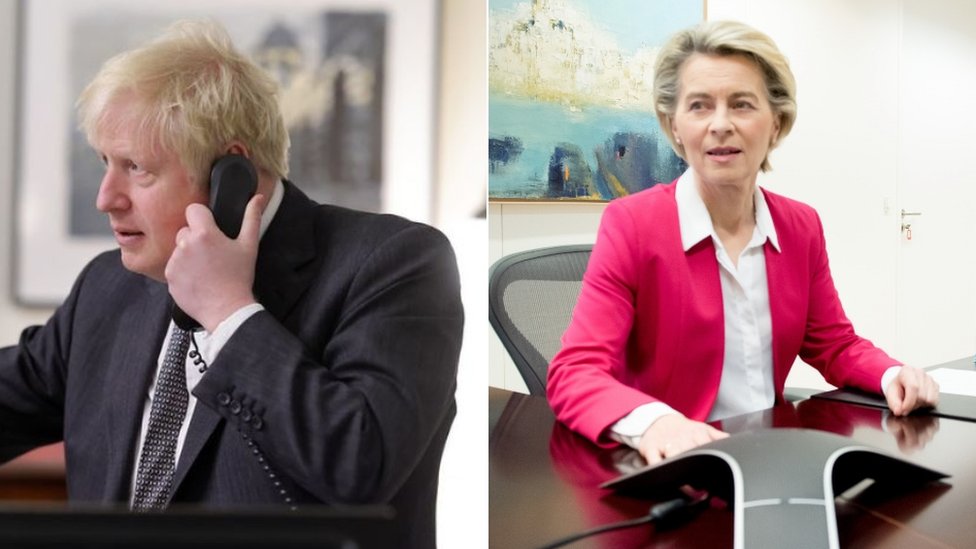 UK Prime Minister Boris Johnson will travel to Brussels this week to meet European Commission President Ursula von der Leyen in a last ditch effort to salvage a post-Brexit trade deal.
It comes after a 90-minute phone call between the two leaders failed to produce a breakthrough.
In a joint statement, they said the conditions for a deal were "not there".
"Significant differences" remained on fishing, business competition rules and governance of any deal, they added.
"We asked our chief negotiators and their teams to prepare an overview of the remaining differences to be discussed in a physical meeting in Brussels in the coming days," the leaders said in their statement.
A senior UK government source has warned that a deal may not be possible, after the phone call between the PM and the European Commission president.
"Talks are in the same position now as they were on Friday. We have made no tangible progress," the source added.
"It's clear this must now continue politically. Whilst we do not consider this process to be closed, things are looking very tricky and there's every chance we are not going to get there."
Brexit - The basics
Brexit happened but rules didn't change at once: The UK left the European Union on 31 January but leaders needed time to negotiate a deal for life afterwards - they got 11 months
Talks are on again: The UK and the EU have until 31 December to agree a trade deal as well as other things, such as fishing rights
If there is no deal: Border checks and taxes will be introduced for goods travelling between the UK and the EU. But deal or no deal, we will still see changes
EU chief negotiator Michel Barnier and his UK counterpart Lord Frost have been locked in intensive talks for the past week, as the deadline for a deal looms.
The two negotiators will meet on Tuesday to draw up a list of the outstanding differences between the two sides, ahead of a summit of EU leaders in Brussels on Thursday.
The BBC's political editor Laura Kuenssberg said it remained unclear when the PM would go, although Wednesday or Friday appeared the "most likely" dates.
Labour welcomed the move, but shadow Cabinet Office minister Rachel Reeves said the PM should have been "more engaged in these negotiations months ago rather than leaving it to the eleventh hour".
What are they arguing about?
The UK and EU have been trading for years without paying tariffs or doing customs or border checks.
Trading rules have stayed the same despite the UK leaving the EU on 31 January but that is all set to change at the start of next year.
If an agreement is not reached and ratified by 31 December, the UK and EU could introduce import charges on each other's goods.
The UK's Office for Budget Responsibility has said leaving the EU customs union and single market without a trade deal could lead to a 2% reduction in national income next year.