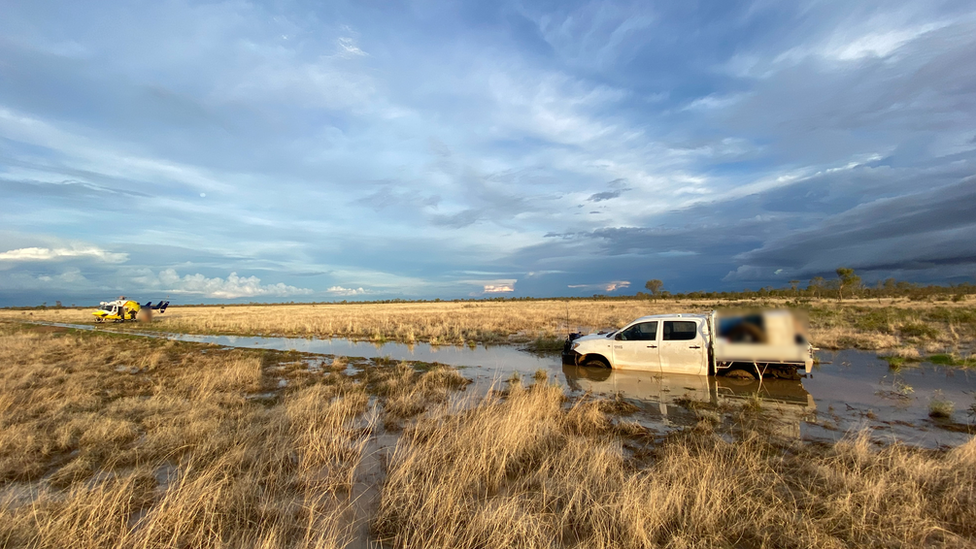 A father and his 10-year-old son have been rescued in the Australian outback after their three travelling companions walked for 12 hours to seek help.
They were driving through north-west Queensland on Sunday, when their car got stuck on flooded roads.
Trapped, the group spent the night in the car, and the next morning, three of them headed to the nearest large town, Mount Isa, about 50km (31 miles) west.
A rescue mission was launched after the group made it to the police station.
They were able to alert authorities to their friends' location on a map.
Just before dusk, a helicopter rescue crew spotted the father and son in the middle of the plain, sitting on the roof of their car.
Authorities said they were in good health and didn't require any medical treatment.
"[They] were flown to Mount Isa Airport in good spirits," said a statement from rescue service RACQ LifeFlight Rescue.
Rescue pilot Russell Proctor praised the pair for doing "all the right things" including having drinking water with them and staying in one spot.
"Despite having to wait such a long time to be rescued, they remained with their vehicle until help arrived," he said.
Queensland Ambulance said the three companions who made the walk for help also didn't require any medical treatment.